In this fast-paced world, it can be tempting to record your own voiceover. Especially when a lot of friends say you have a great voice.
How simple it is to sound-treat your closet and record with the built-in recorder app on your smartphone, right? It's quick and low-budget.
Not quite.
There's more to voiceovers than a pleasant timbre.
DIY, amateurish voiceover might be a go-to for your daily social media video content.
But, it's always best to use professional voiceover when you have a well-invested business strategy that needs audio content.
To record a professional voiceover, you need excellent diction, the right tone, a flexible voice style, professional equipment, and the list goes on.
You can't just learn and master them overnight.
That's where voiceover services come in handy.
Professional voiceover services know what to do, whether for campaign videos, learning content, business phone systems, or even game production.
We've listed over 100 professional voiceover companies worldwide, including AI-generated voiceover makers and marketplaces, to help you find your best option.
Why Invest In Professional Voiceover?
Professional voiceover companies have well-trained voiceover artists who know all about nuances, including proper mic placement, how to prevent echoes, and distortions. That's how they record crystal-clear audio.
Voiceover artists can flawlessly adapt their voice without compromising clear diction. They modify their voice's tone, volume, personality, and intensity to match the qualities and emotions of different purposes.
Voice artists specialized in your niche understand your target audience's reaction to different voice styles. With their hands-on experience, they can choose the most appealing one, depending on your scene's purpose.
There are always options for every budget. So, professional voiceover is accessible for businesses of all sizes. With several price ranges for professional voiceover services, it's become so easy to find a service that suits your budget.
Price Range
Establishment Year
Type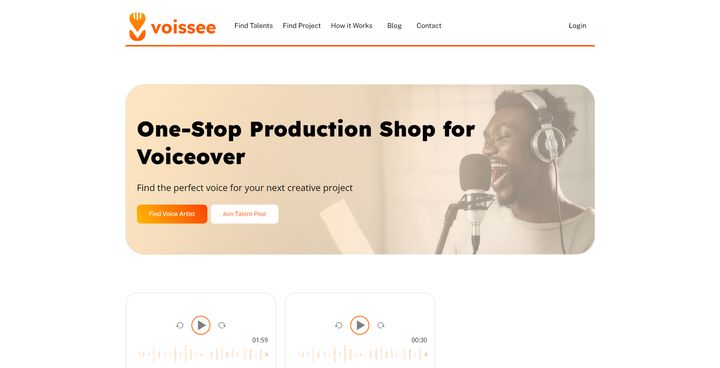 Voissee
https://voissee.com/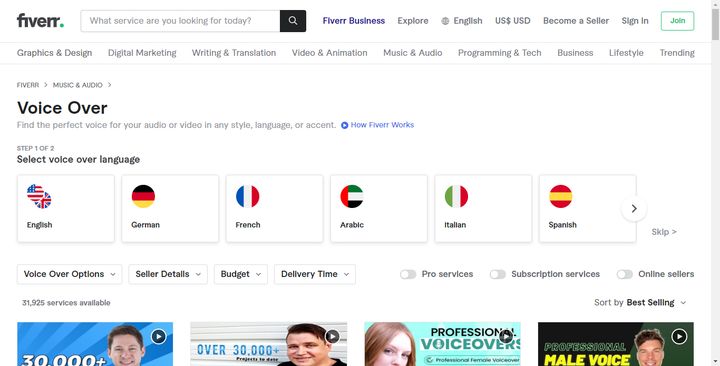 Fiverr
https://www.fiverr.com/categories/music-audio/voice-overs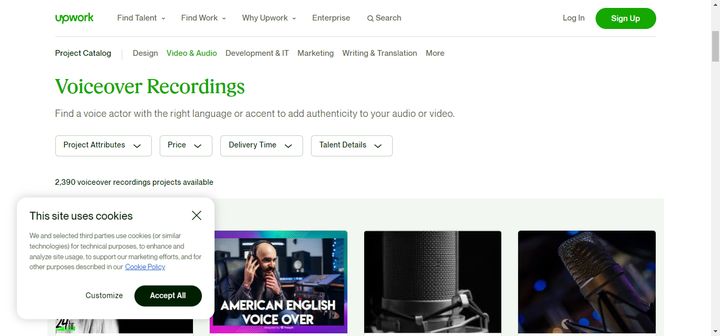 Upwork
https://www.upwork.com/services/voice-over
Founder
Beerud Sheth Srini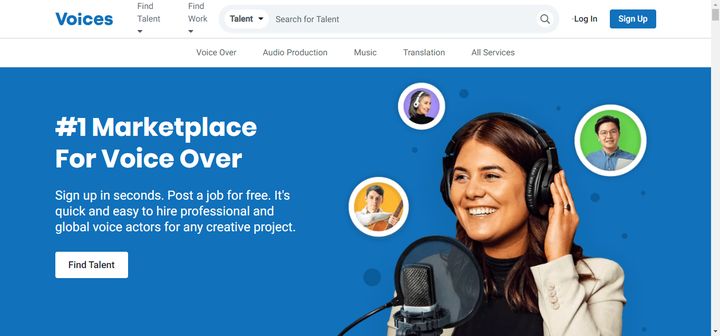 Voices
https://www.voices.com/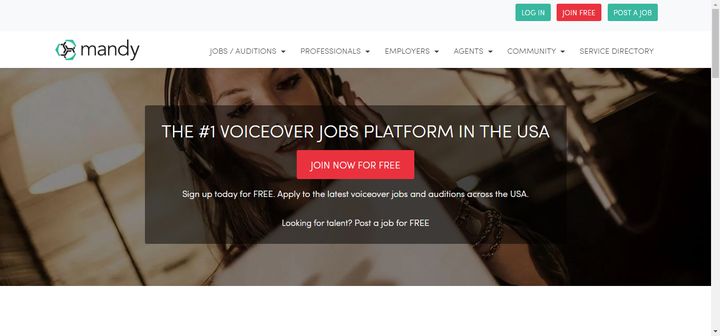 Mandy
https://www.mandy.com/us/voiceover-artist-jobs
Founder
Chris Timms, Simon Dale
Voice123
https://voice123.com/
Founder
Alexander Torrenegra, Tania Zapata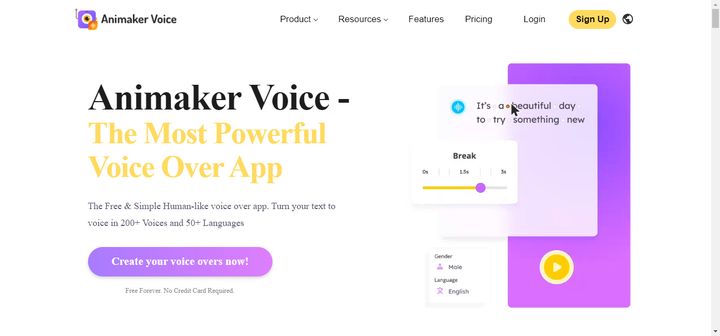 Animaker Voice
https://www.animaker.com/voice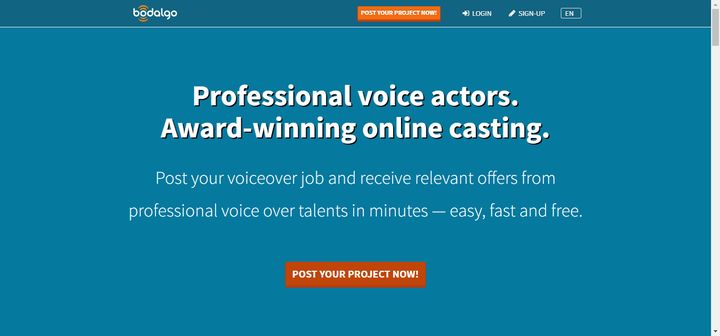 Bodalgo
http://www.bodalgo.com/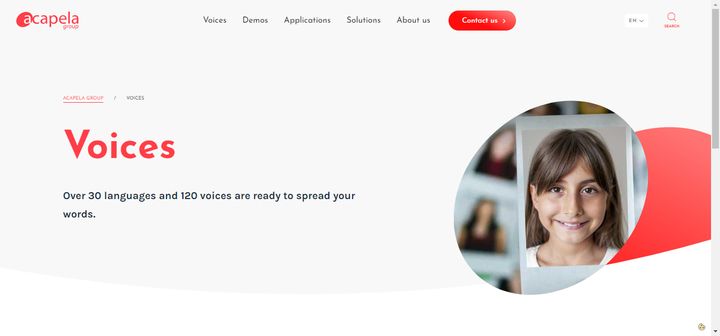 Acapela Group
https://www.acapela-group.com/voices/
Location
France/ Belgium/ Germany/ Sweden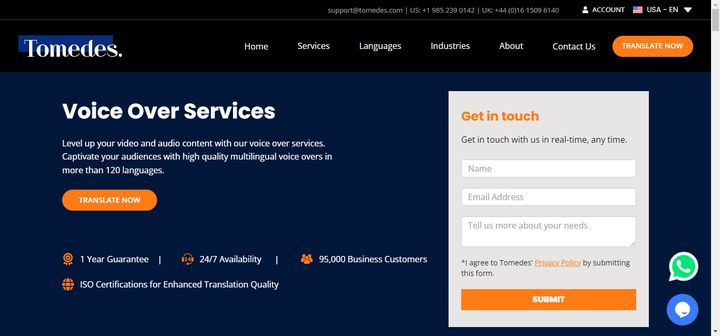 Tomedes
https://www.tomedes.com/services/voice-over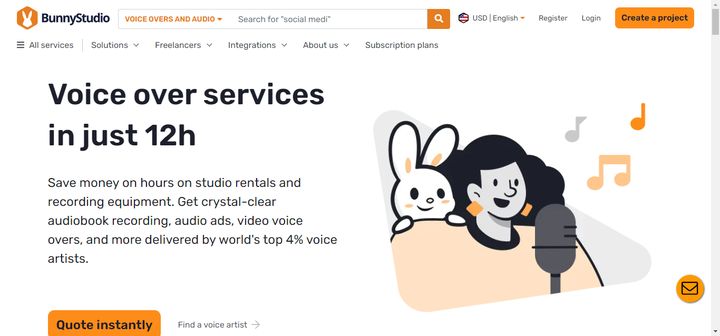 Bunny Studio
https://bunnystudio.com/voice/
Location
Mexico/ Argentina
Founder
Alexander Torrenegra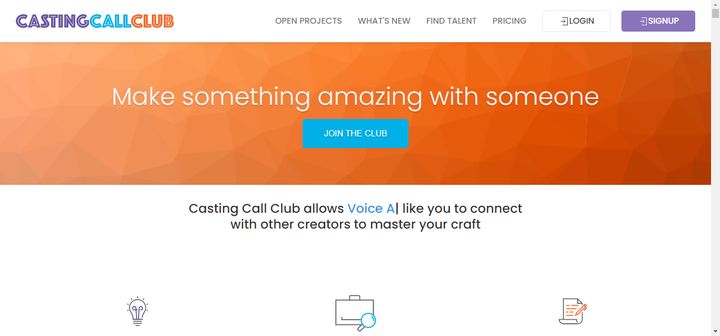 Casting Call Club
https://www.castingcall.club/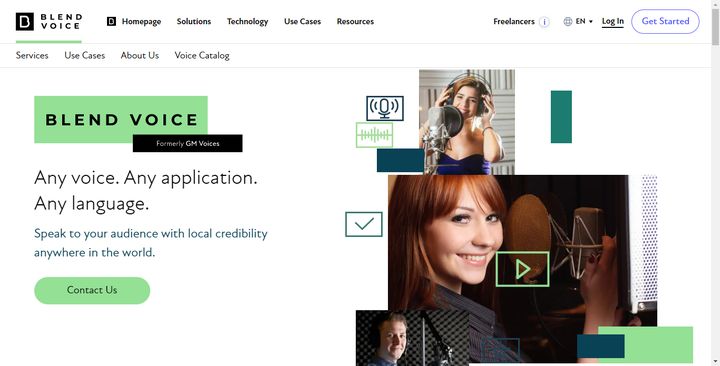 Blend Voice
https://www.getblend.com/blend-voice/
Founder
Yaron Kaufman, Lior Libman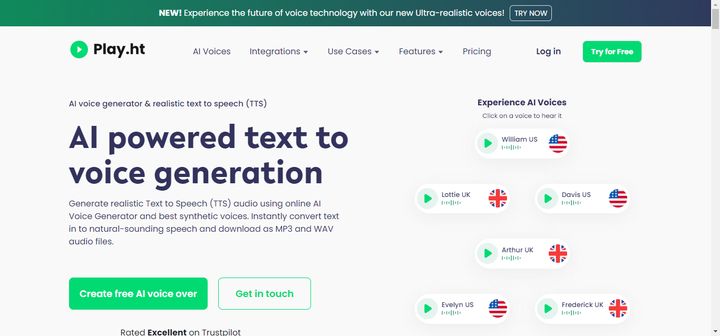 Play HT
https://play.ht/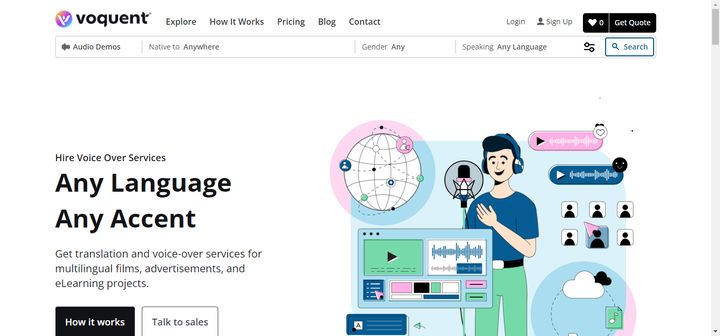 Voquent
https://www.voquent.com/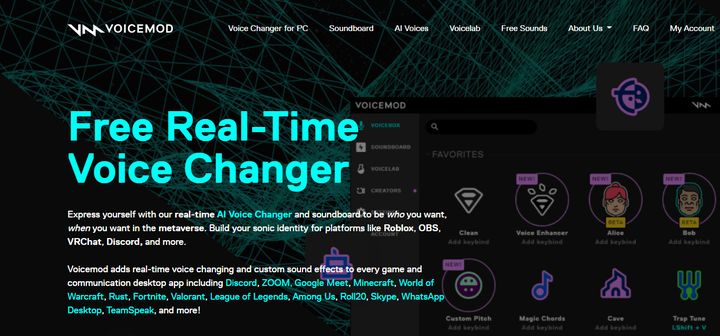 Voicemod
https://www.voicemod.net/
Founder
Jaime, Fernando, and Juan Bosch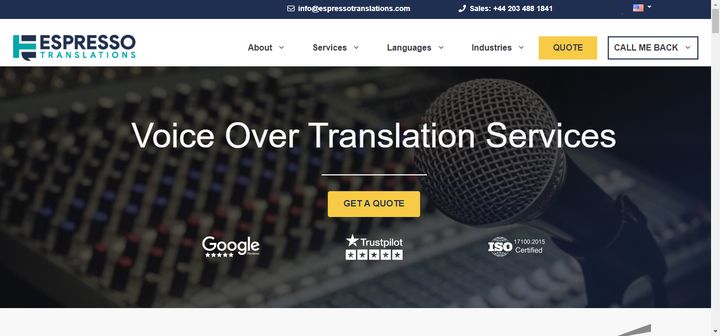 Espresso Translations
https://www.espressotranslations.com/voice-over-services/
Founder
Danilo Coviello and Niki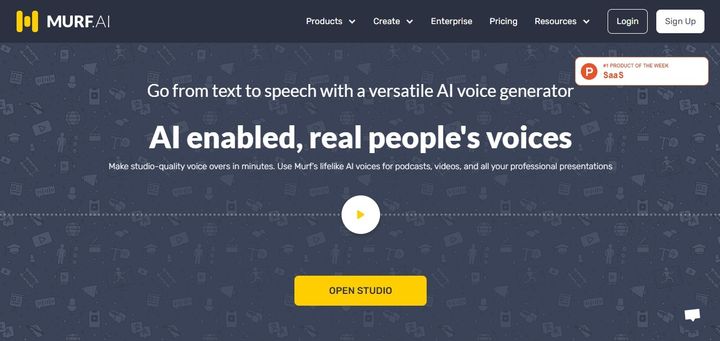 Murf
https://murf.ai/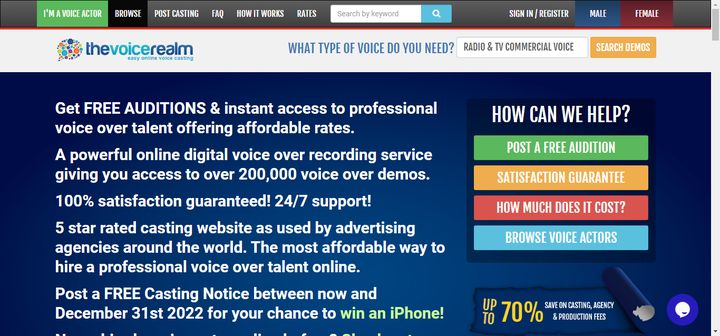 The Voice Realm
https://www.thevoicerealm.com/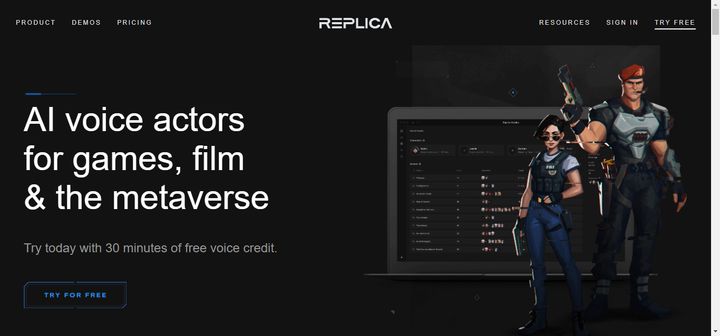 Replica Studios
https://replicastudios.com/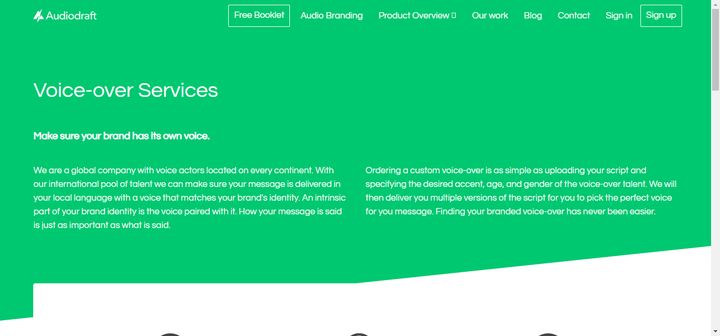 Audio Draft
https://www.audiodraft.com/voice-over-services/
Location
Helsinki, Finland
Founder
Arto Tolonen and Teemu Yli-Hollo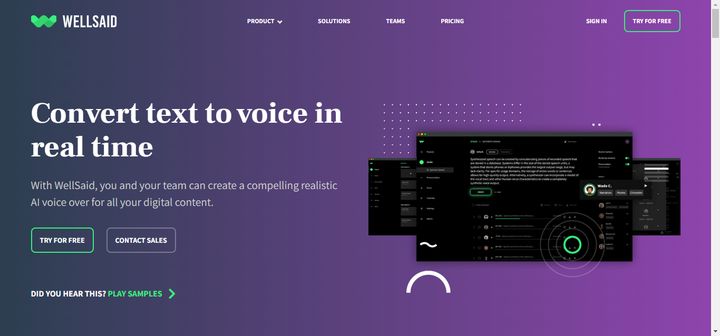 Well Said
https://wellsaidlabs.com/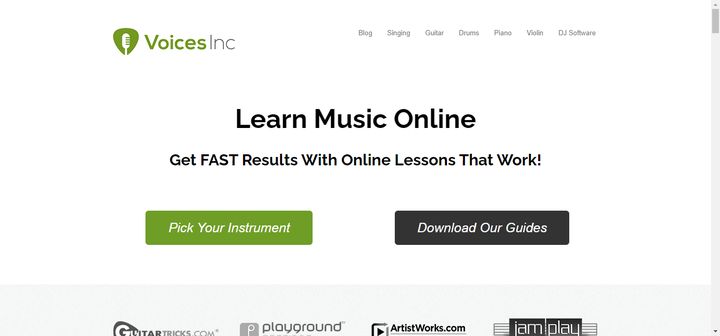 Voices Inc
https://www.voicesinc.org/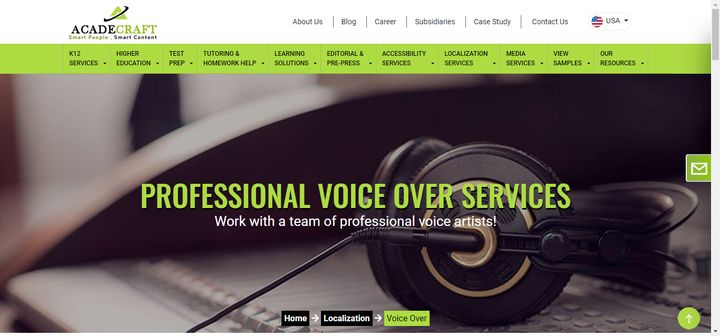 Acade Craft
https://www.acadecraft.com/localization/voice-over-services/
Founder
Harendra Singh Tomar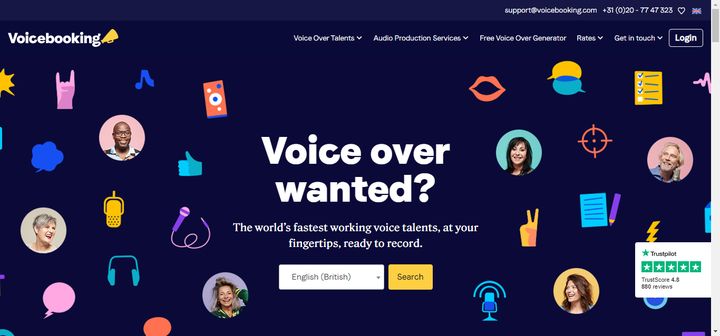 Voice Booking
https://www.voicebooking.com/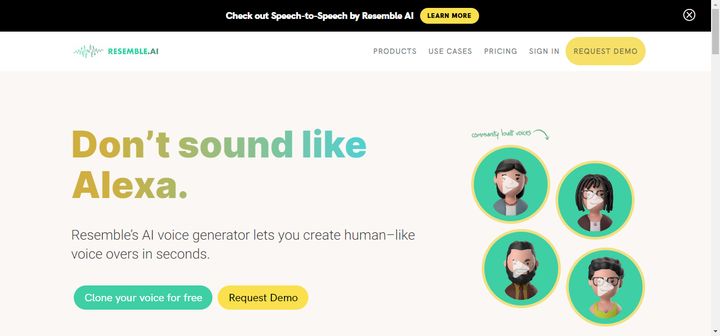 Resemble AI
https://www.resemble.ai/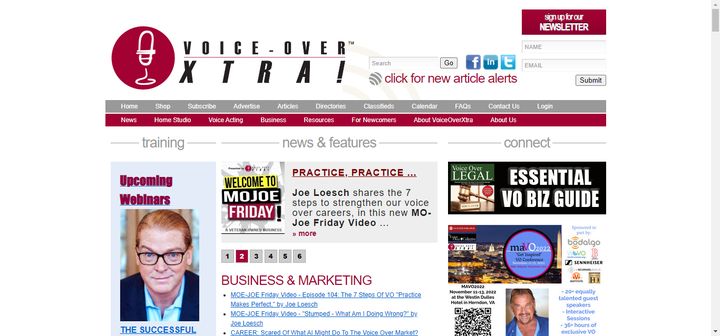 Voice Over Extra
https://www.voiceoverxtra.com/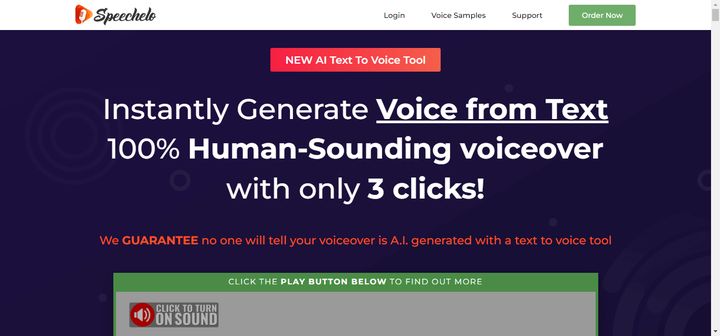 Speechelo
https://speechelo.com/
Location
Botosani, Romania
Founder
Stoica Mihai and Vlad Christian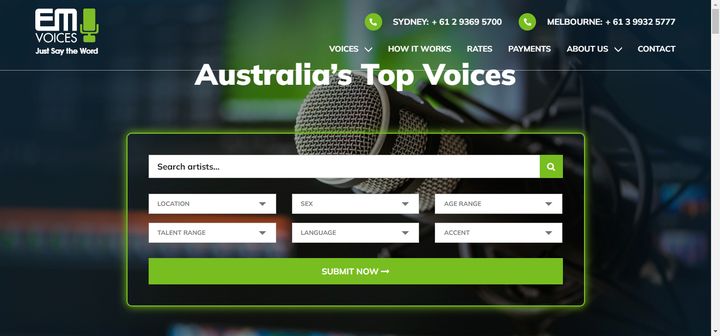 EM Voices
https://www.emvoices.com.au/
Location
Sydney/ Melbourne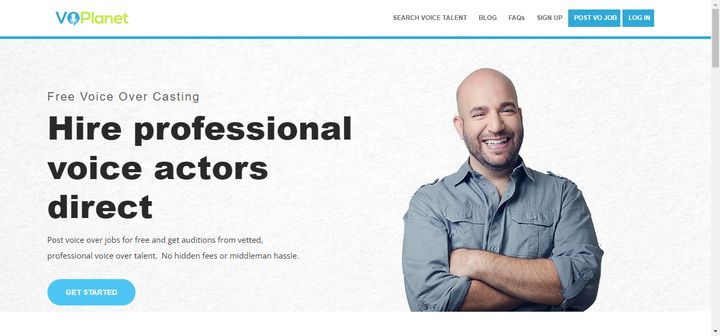 VO Planet
https://www.voplanet.com/
Founder
Christine Harper-Bloxom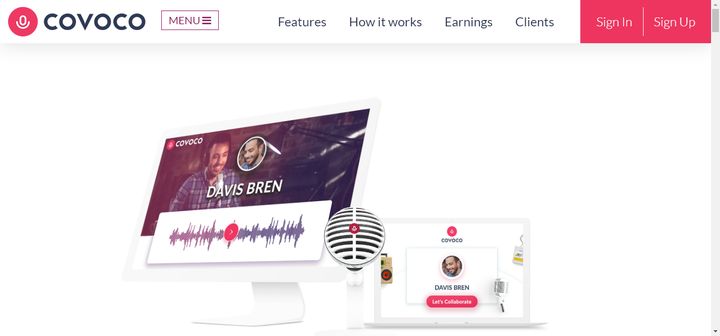 Covoco
https://www.covoco.co/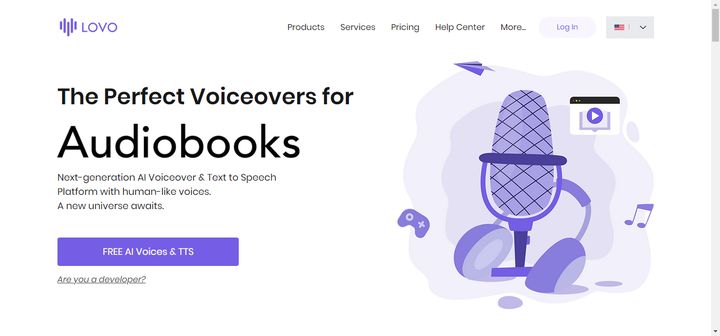 LOVO
https://www.lovo.ai/
Founder
Tom (Seung Kun) Lee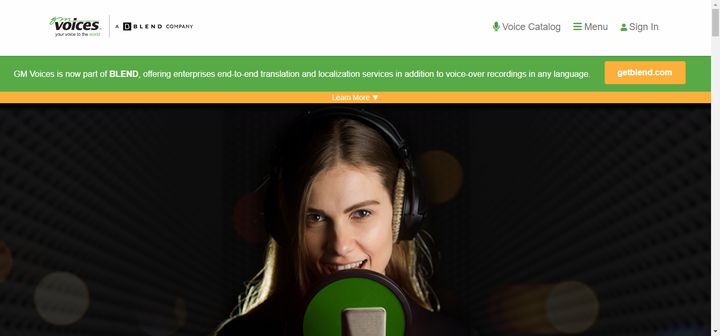 GM Voices
https://www.gmvoices.com/
Location
Alpharetta, Georgia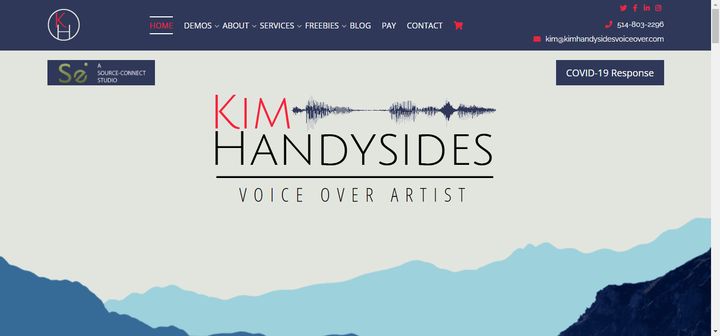 Kim Handysides
https://kimhandysidesvoiceover.com/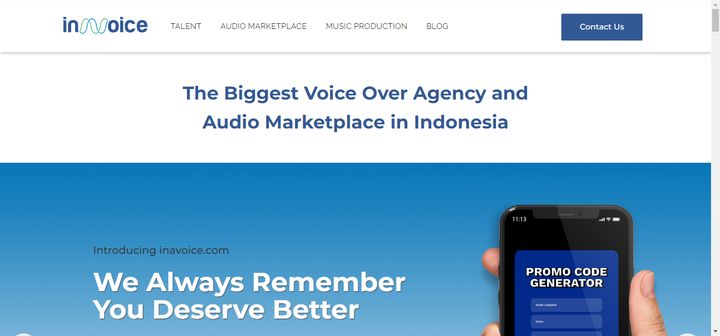 Inavoice
https://inavoice.com/
Location
Yogyakarta, Indonesia
Founder
Jatmiko Kresnatama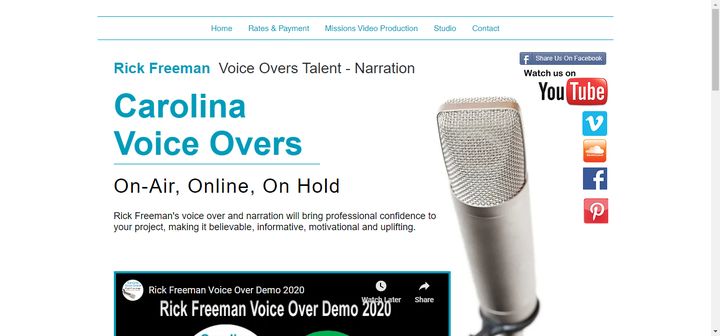 Carolina Voice Overs
http://www.carolinavoiceovers.com/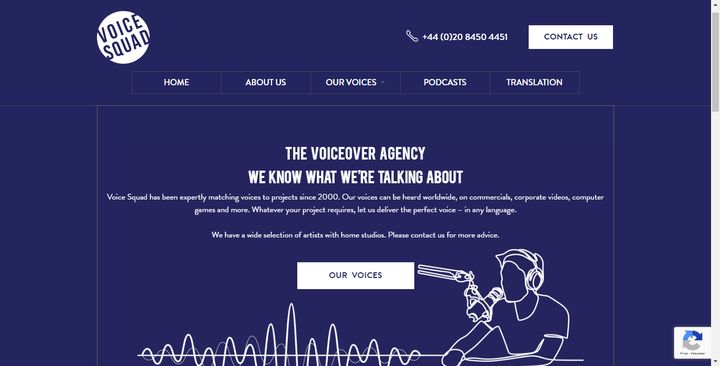 Voice Squad
https://www.voicesquad.com/
Voice Crafters
https://www.voicecrafters.com/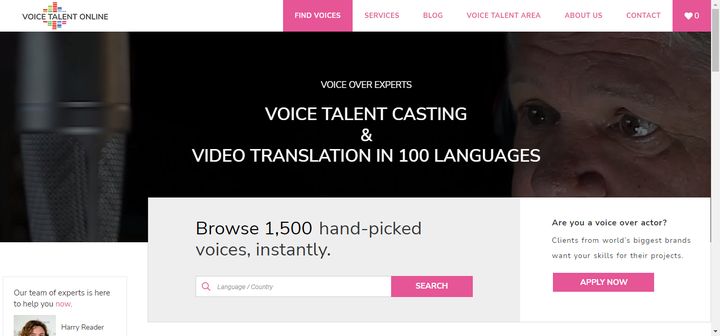 Voice Talent Online
https://www.voicetalentonline.com/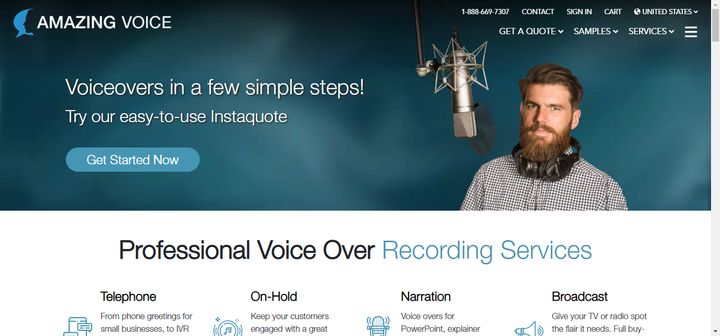 Amazing Voice
https://www.amazingvoice.com/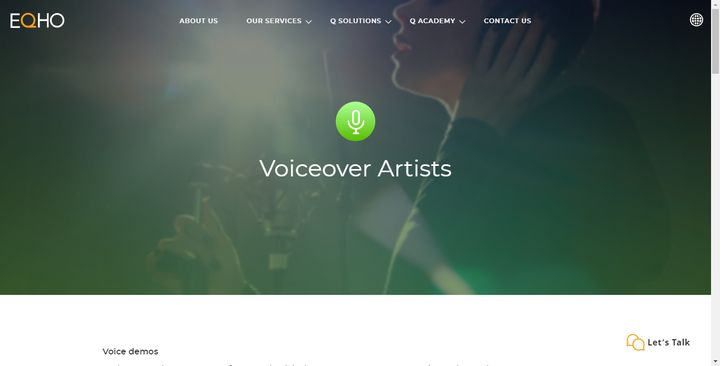 Eqho
https://eqho.com/voice-artists/
Location
Raffles Place, Singapore
Founder
Phanitanan Sanitprachakorn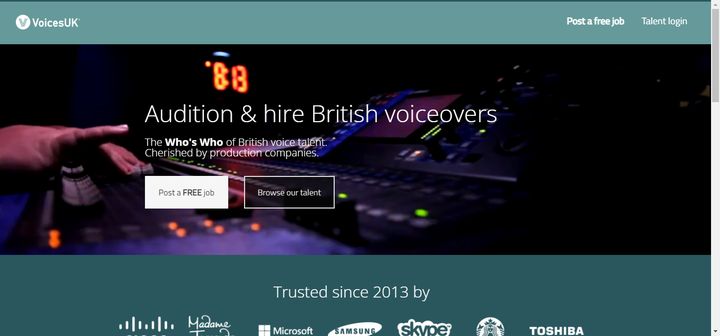 VoicesUK
https://www.voicesuk.co.uk/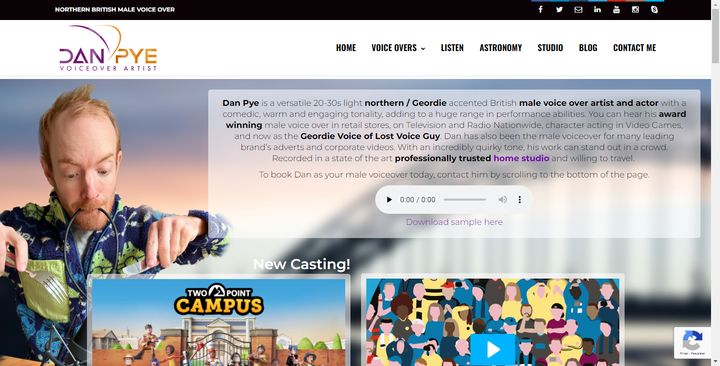 Dan Pye
https://www.danpye.com/
Voxtab
https://www.voxtab.com/voiceover-services.htm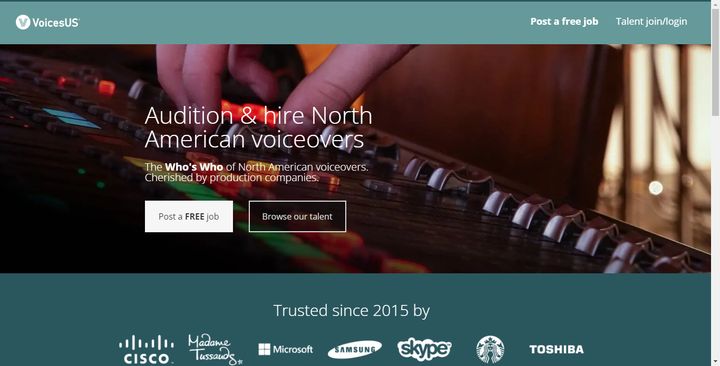 VoicesUS
https://www.voicesus.com/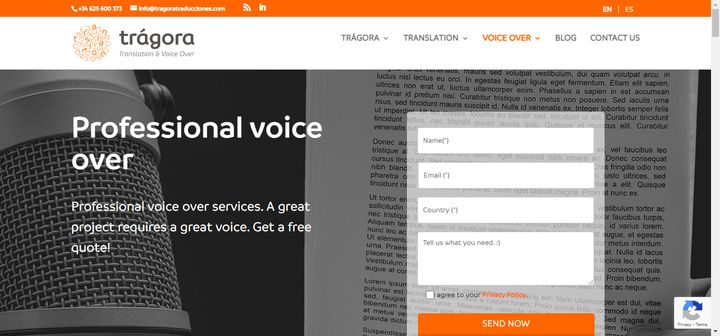 Tragora
https://tragoratraducciones.com/en/professional-voice-over/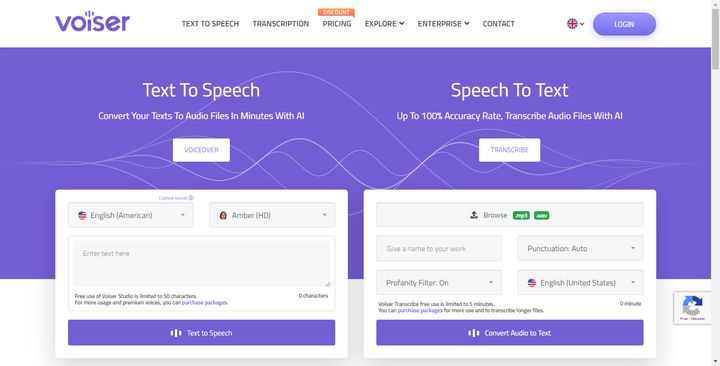 Voiser
https://voiser.net/
Founder
Hafizullah Yıldırım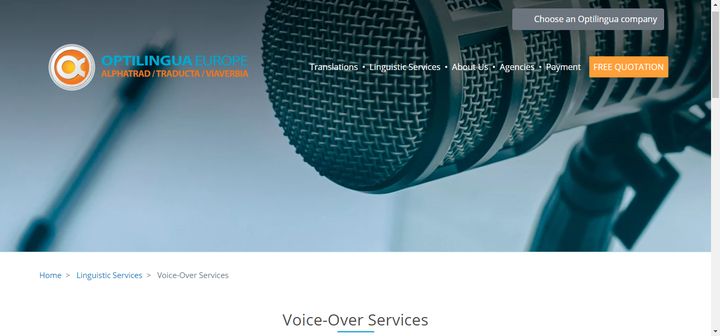 Alphatrad
https://www.alphatrad.com/voice-over-services-artists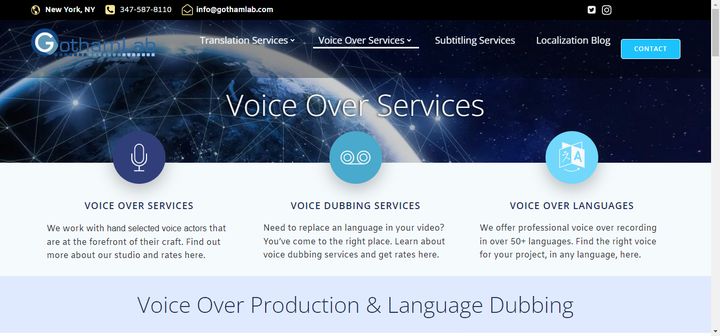 Gothamlab
https://www.gothamlab.com/voice-over-services/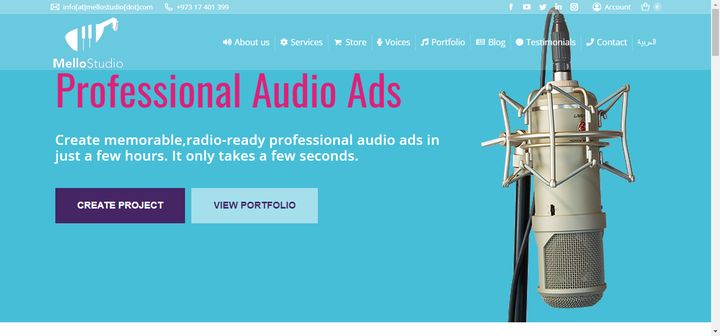 Mello Studio
https://www.mellostudio.com/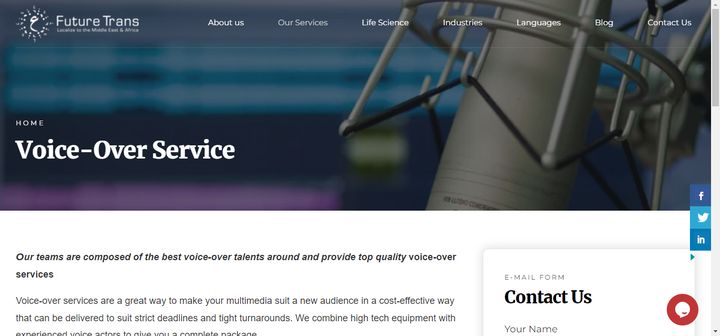 Future Trans
https://www.future-trans.com/voice-over-services/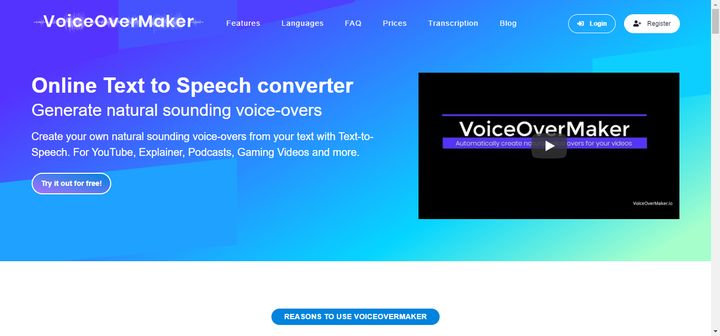 VoiceOverMaker
https://voiceovermaker.io/
Location
Bielefield, Germany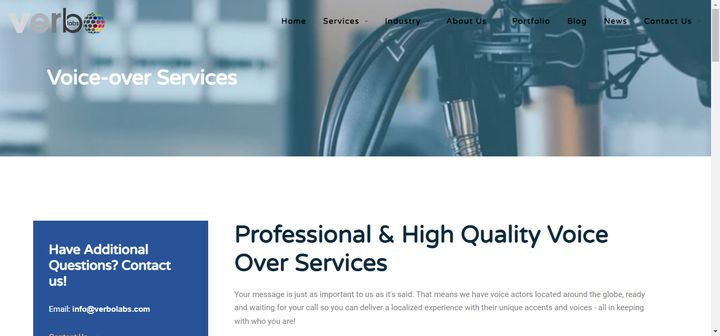 VerboLabs
https://www.verbolabs.com/voice-over-services/
Indo Voice Over
https://indovoiceover.com/
Location
Yogyakarta, Indonesia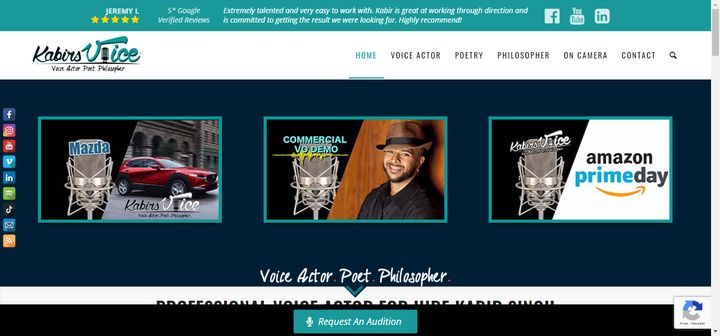 Kabirs Voice
https://kabirsvoice.com/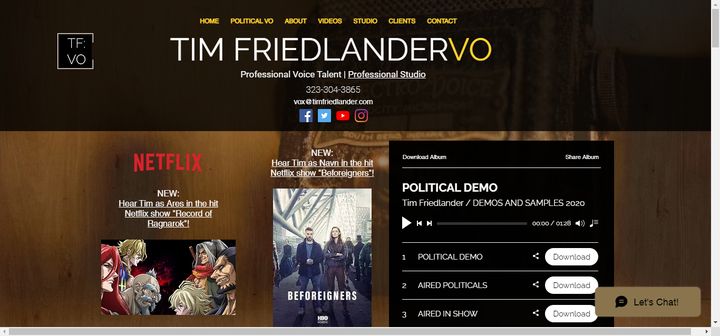 Tim Friedland VO
https://www.timfriedlandervo.com/
Location
Los Angeles/ New York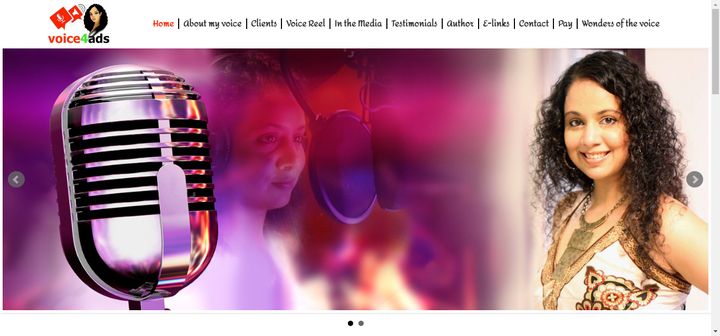 Voice4ads
http://www.voice4ads.com/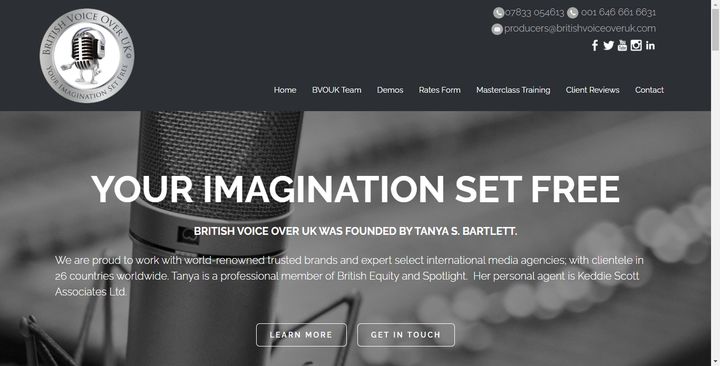 British Voice Over UK
https://www.britishvoiceoveruk.com/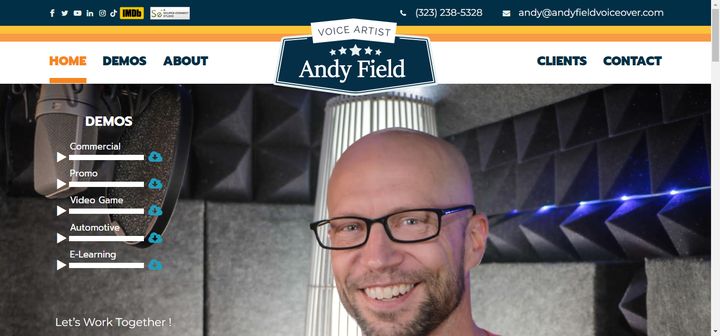 Andy Field
https://www.andyfieldvoiceover.com/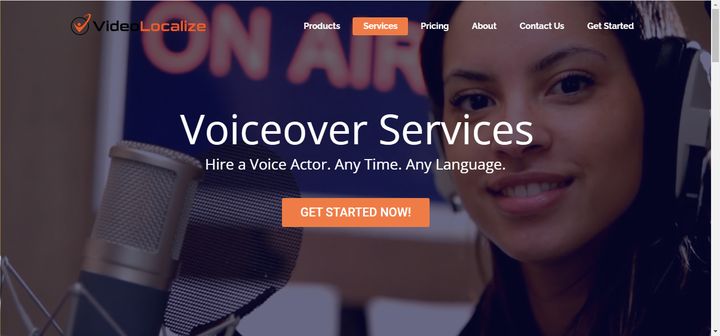 Video Localize
https://videolocalize.com/services/voiceover-services/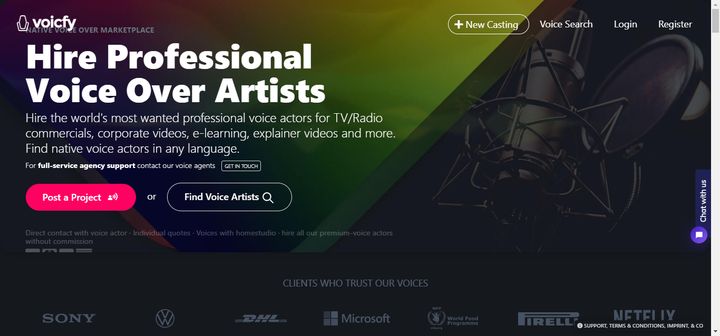 Voicfy
https://voicfy.com/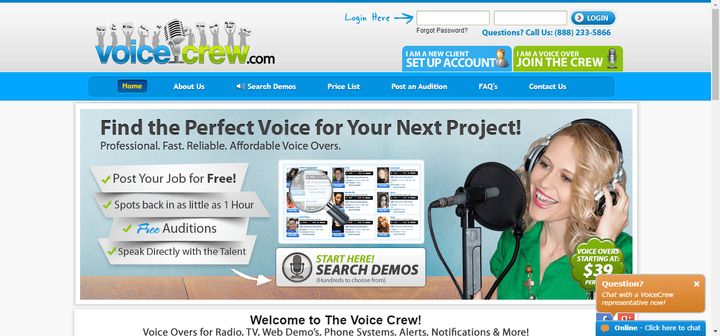 Voice Crew
http://www.voicecrew.com/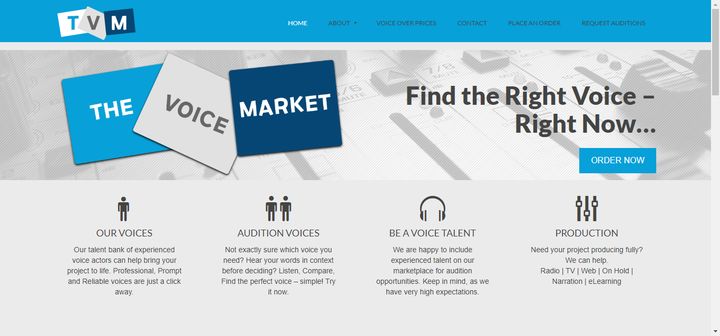 The Voice Market
https://www.thevoicemarket.com.au/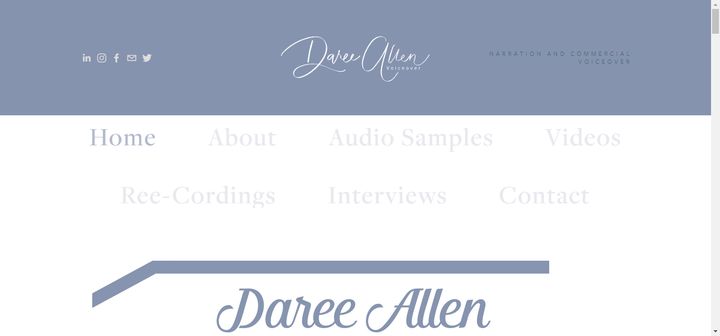 Daree Voice Over
https://www.dareevoiceover.com/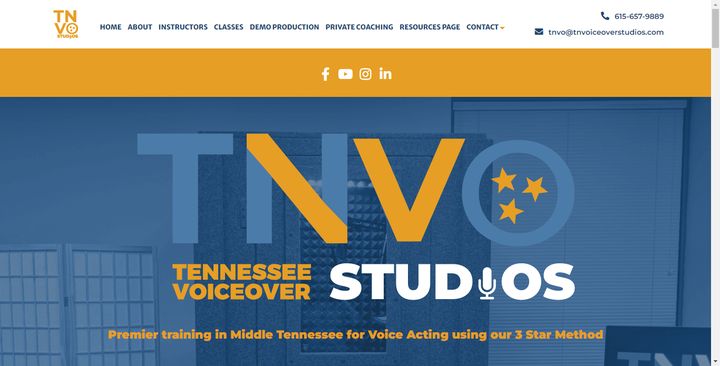 TN Voice Over Studios
https://www.tnvoiceoverstudios.com/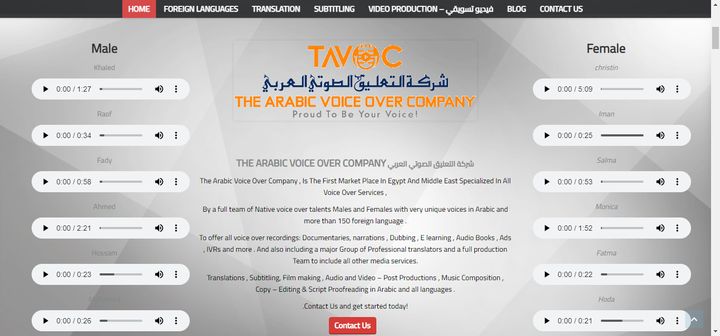 The Arabic Voice Over
https://thearabicvoiceover.com/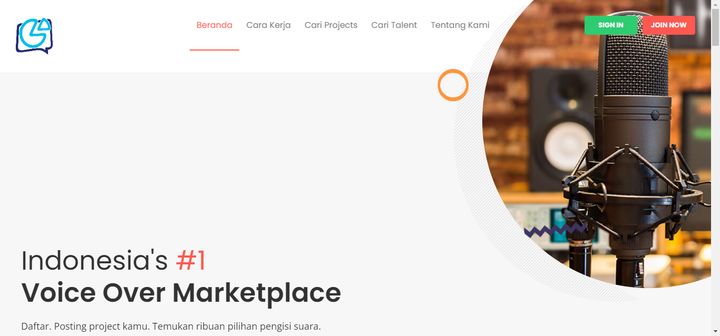 Pengisi Suara
https://pengisisuara.com/
Location
Yogyakarta, Indonesia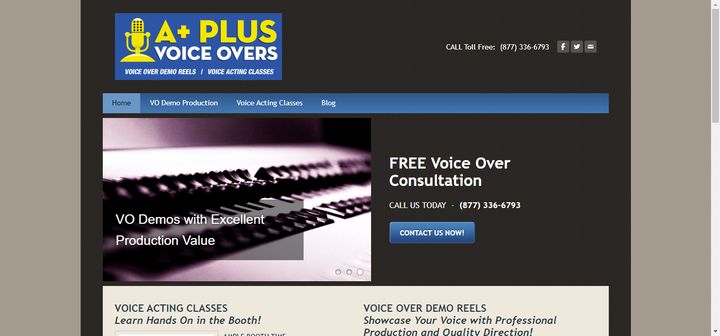 A Plus Voice Overs
https://www.aplusvoiceovers.com/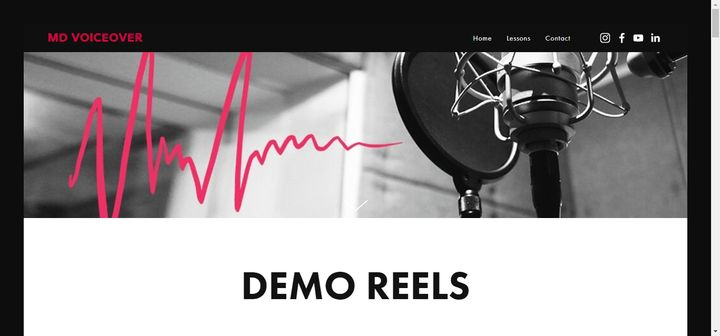 MD Voice Over
http://www.mdvoiceover.com/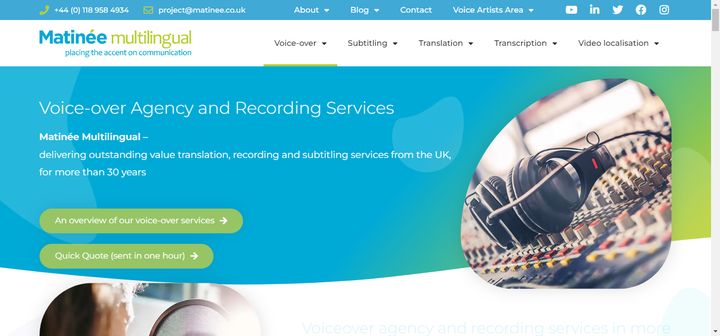 Matinee Multilingual
https://matinee.co.uk/voice-over-agency/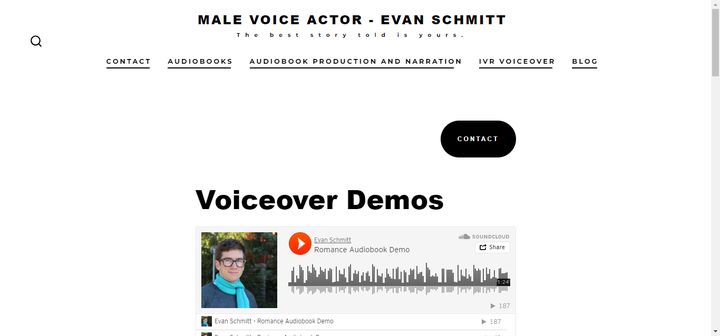 Evan Schmitt
https://www.evanschmitt.com/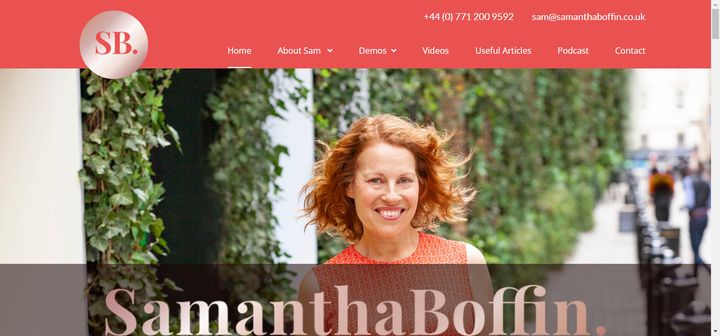 Samantha Boffin
https://samanthaboffin.co.uk/
Vild Factory
https://vildfactory.com/voiceovers
Location
Helsinki, Finland
Founder
Martin Linnankoski
The Sound Enclave
https://www.thesoundenclave.com/services/commercial-voice-over.html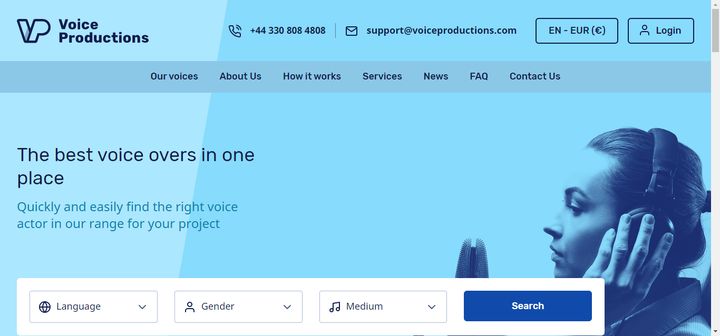 Voice Productions
https://www.voiceproductions.com/en
Nextiva
https://www.nextiva.com/professional-voice-recording/
Todd Schick
https://www.toddschick.com/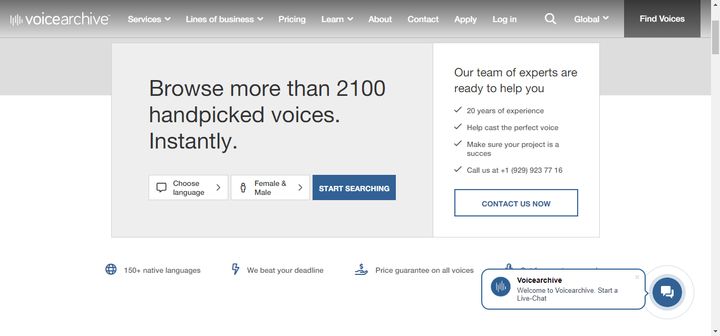 VoiceArchive
https://www.voicearchive.com/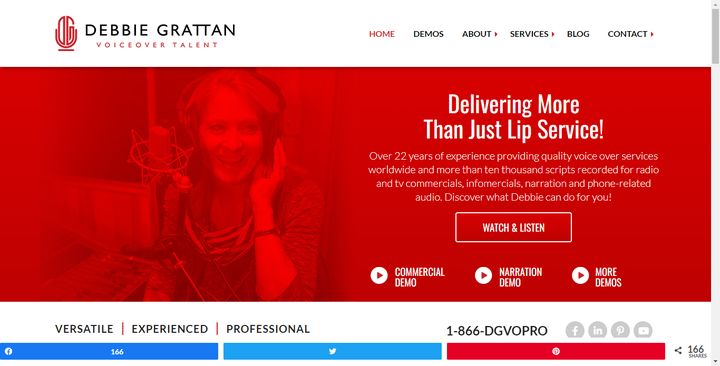 Debbie Grattan
https://www.debbiegrattan.com/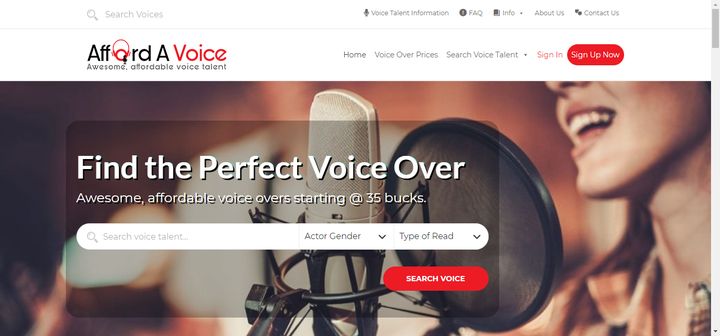 Afford A Voice
https://affordavoice.com/
Founder
Roberta Lynn Haley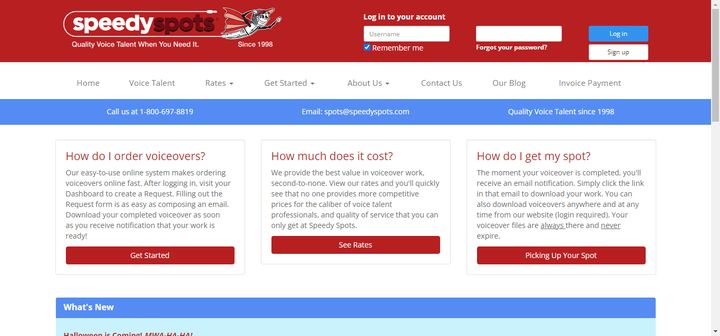 Speedy Spots
https://www.speedyspots.com/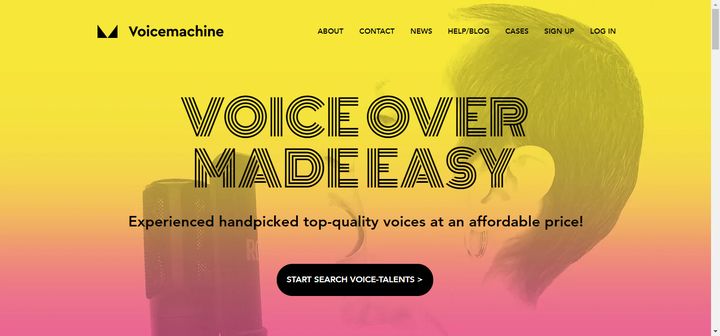 Voicemachine
https://www.voicemachine.com/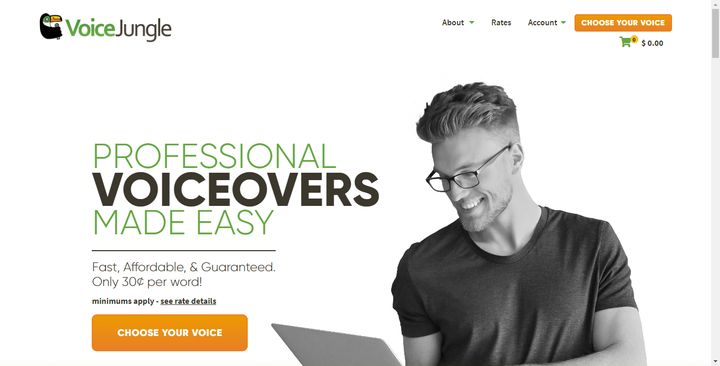 VoiceJungle
https://www.voicejungle.com/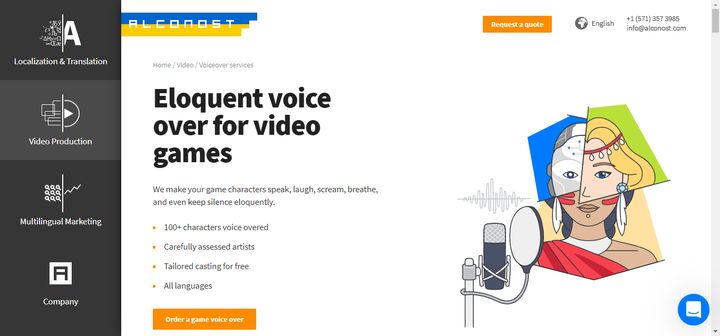 Alconost
https://alconost.com/en/video-production/voice-over
Founder
Alexander Murauski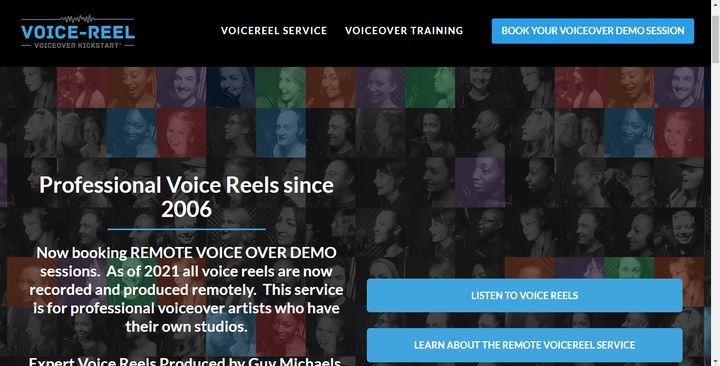 Voice-Reel
https://www.voice-reel.com/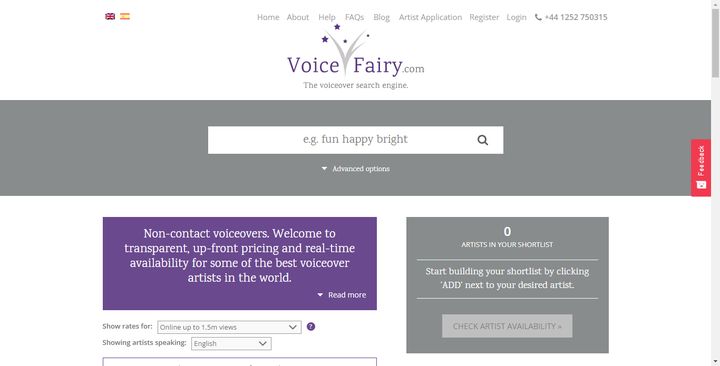 Voice Fairy
https://www.voicefairy.com/
Founder
Leigh Emmerson, Mike Cobb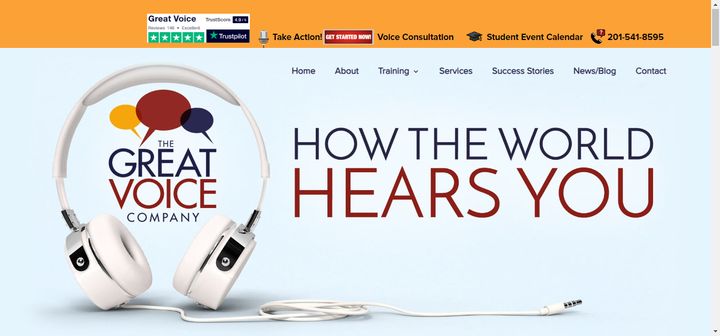 Great Voice
https://greatvoice.com/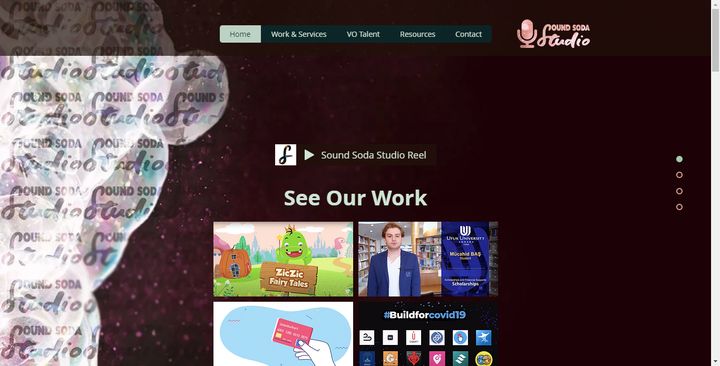 Sound Soda
https://www.soundsoda.com/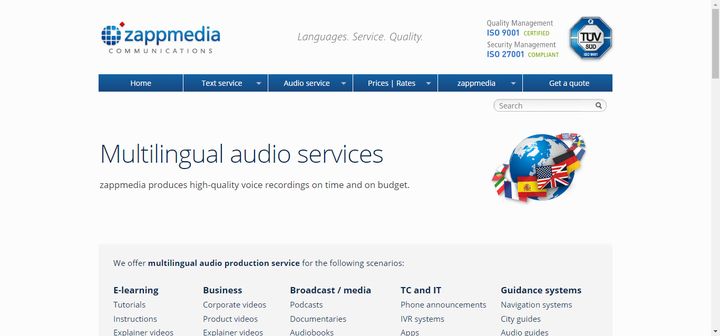 Zappmedia
https://www.zappmedia.com/audio-service.html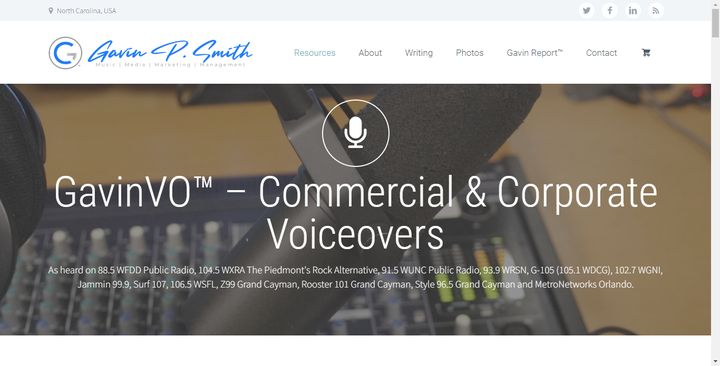 Gavin Smith
https://www.gavinpsmith.com/gavinvo-commercial-corporate-voiceovers/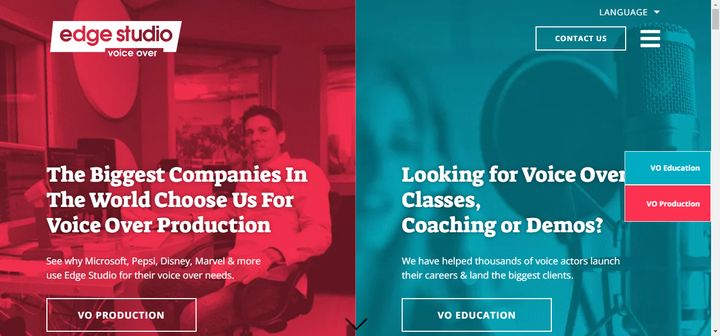 Edge Studio
https://edgestudio.com/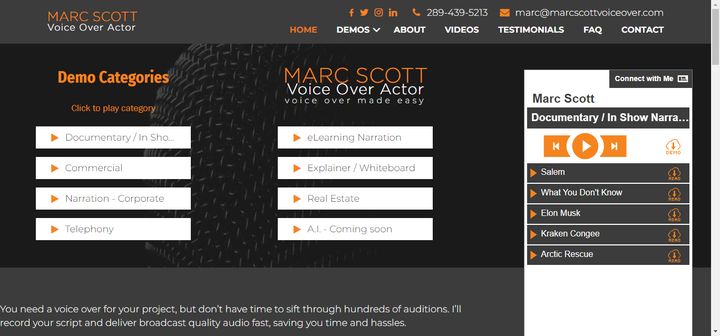 Marc Scott
https://www.marcscottvoiceover.com/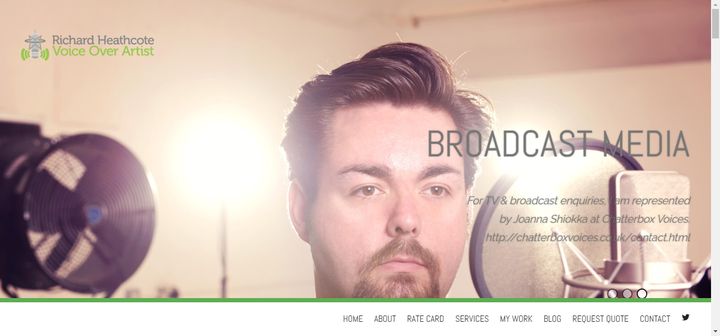 Richard Heathcote
https://www.richardheathcote.co.uk/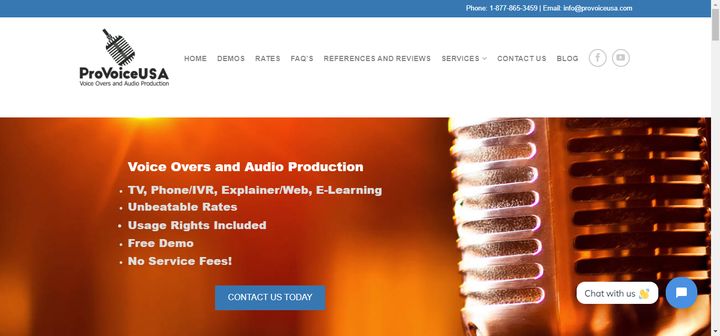 ProVoiceUSA
https://provoiceusa.com/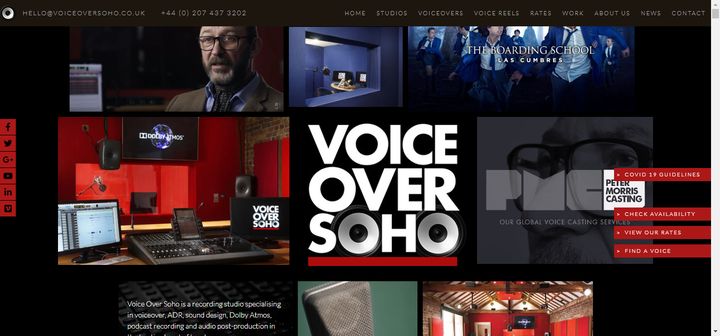 Voiceover Soho
https://voiceoversoho.co.uk/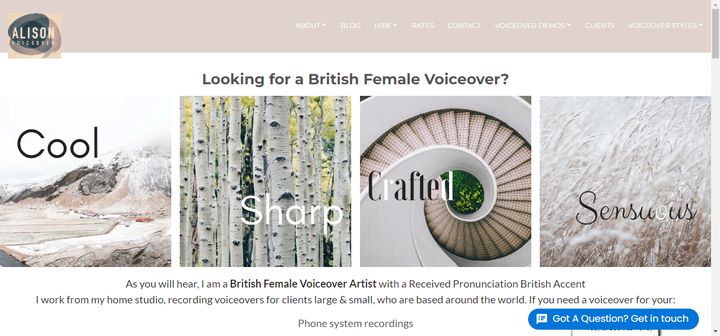 Alison Pitman
https://www.thephonevoice.com/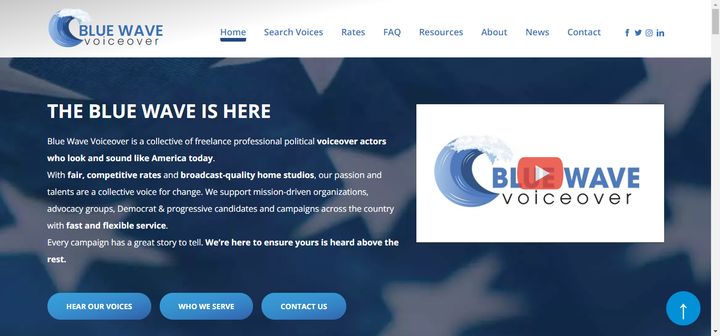 Blue Wave Voiceover
https://www.bluewavevoiceover.com/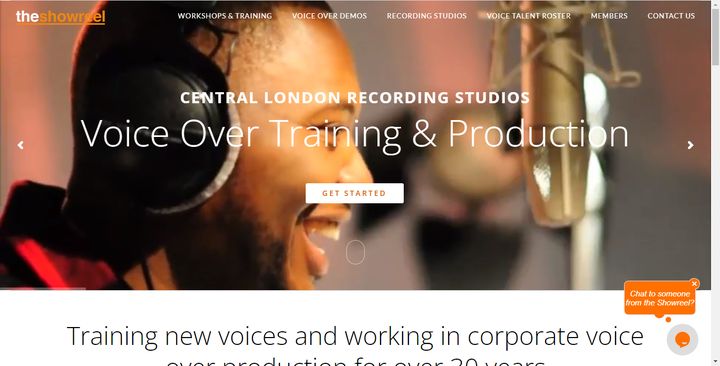 The Showreel
https://theshowreel.com/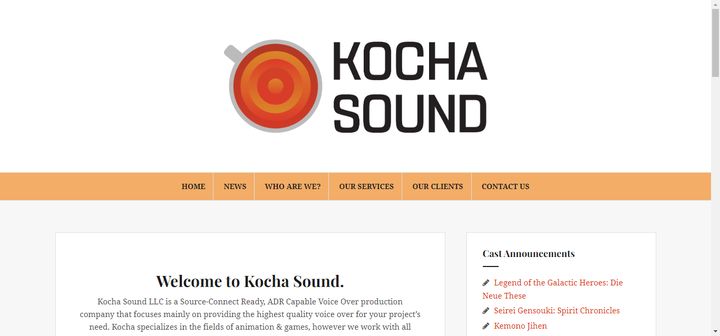 Kocha Sound
http://www.kochasound.com/
Founder
Brittany Lauda and Matt Shipman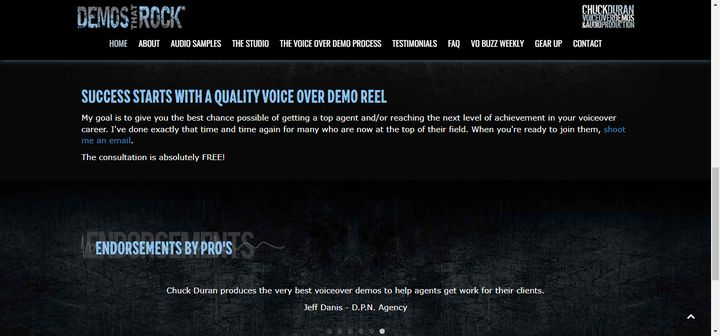 Demos That Rock
https://demosthatrock.com/
Location
Los Angeles/ New York/ Miami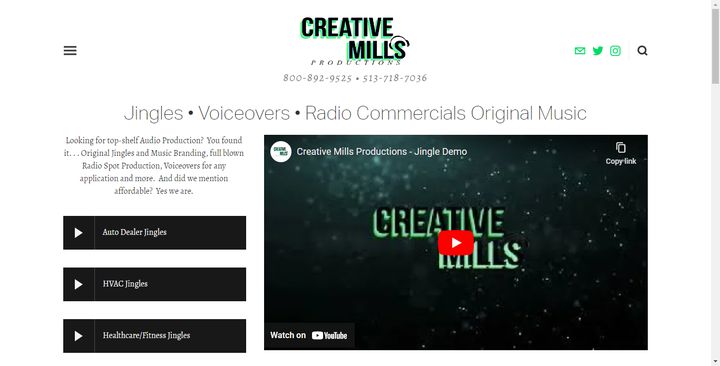 Creative Mills
https://www.creativemills.com/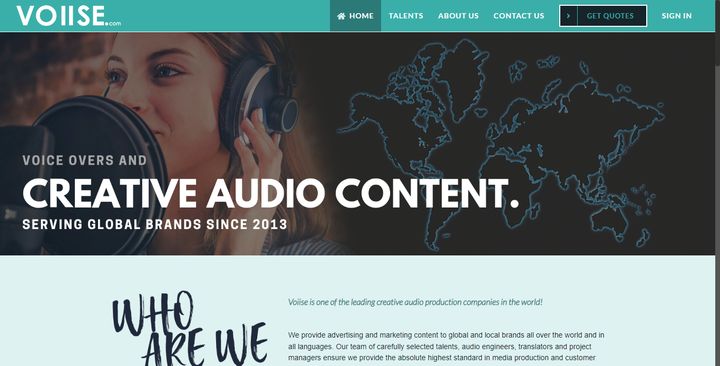 Voiise
https://www.voiise.com/
Same Day Voiceovers
https://www.samedayvoiceovers.com.au/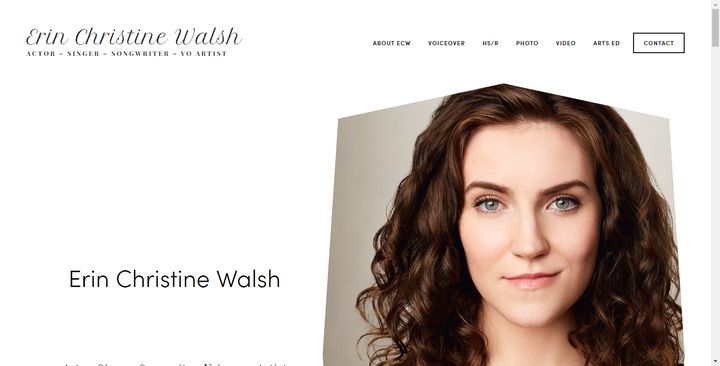 Erin Christine Walsh
https://www.erinchristinewalsh.com/
Location
Chicago/ New York
Founder
Erin Christine Walsh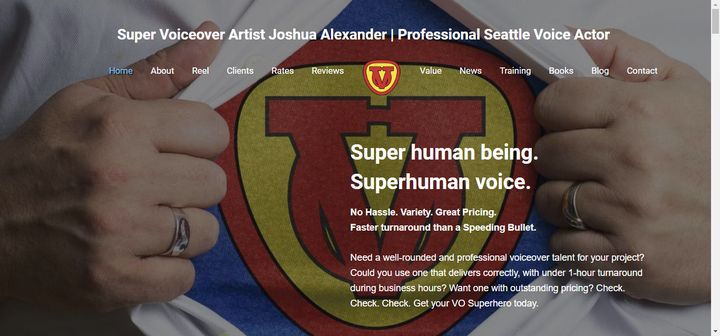 Super Voiceover
https://www.supervoiceover.com/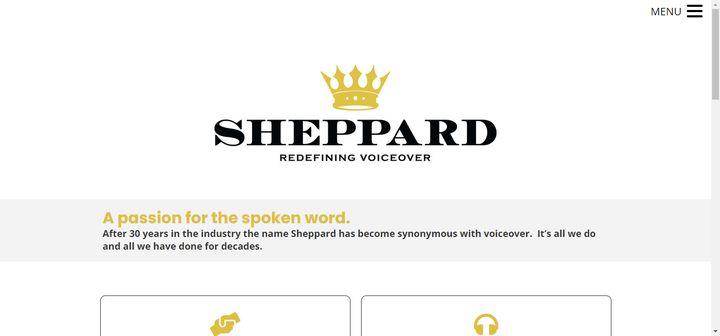 Sheppard Agency
https://www.sheppard.agency/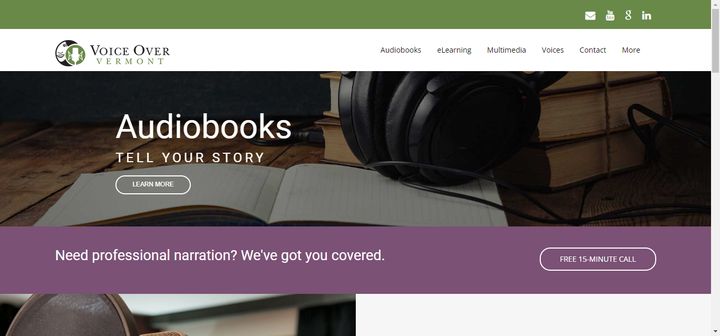 Voiceover Vermont
https://voiceoververmont.com/
Founder
Mary Catherine Jones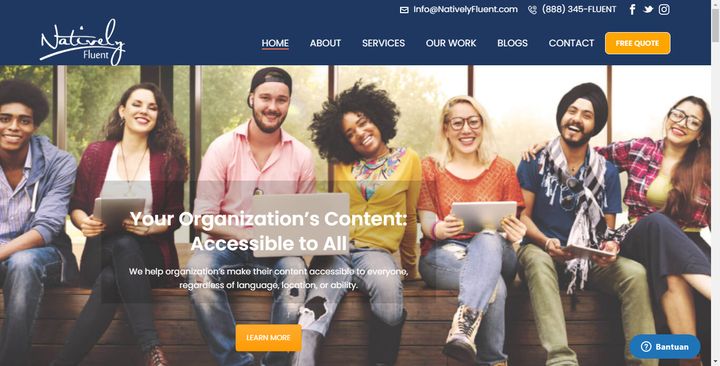 Natively Fluent
https://nativelyfluent.com/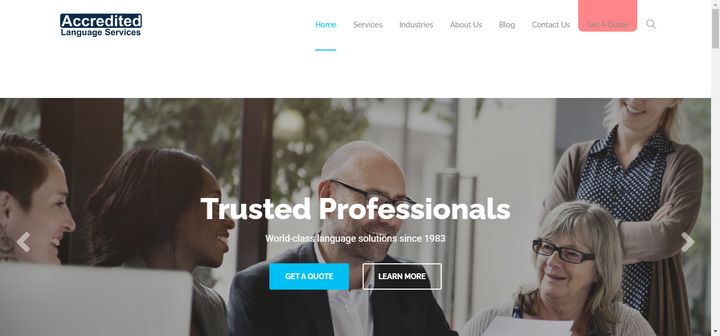 Accredited Language
https://www.accreditedlanguage.com/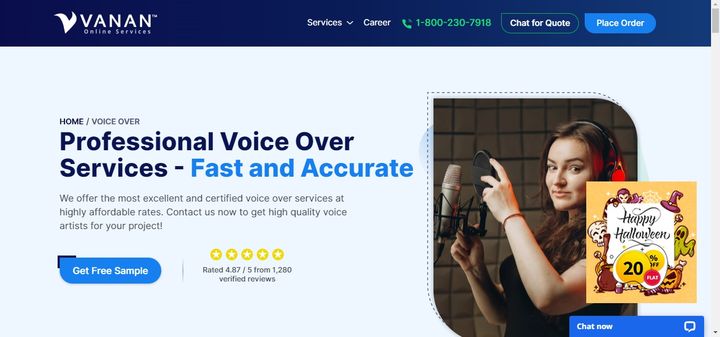 Vanan Services
https://vananservices.com/voice-over-services/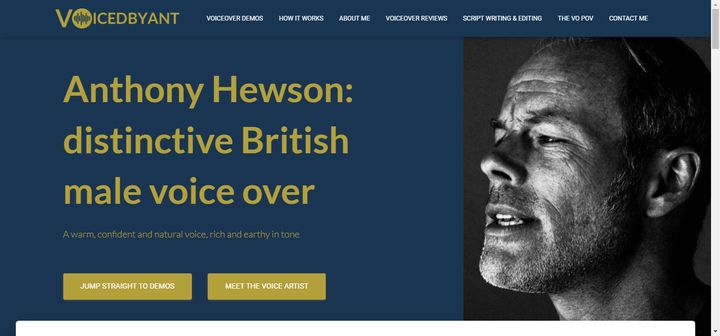 Voice By Ant
https://voicedbyant.co.uk/